Tuesday 15 December, 2020
Starting from today the Basque National Orchestra launches on YouTube its concerts from the 20/21 Season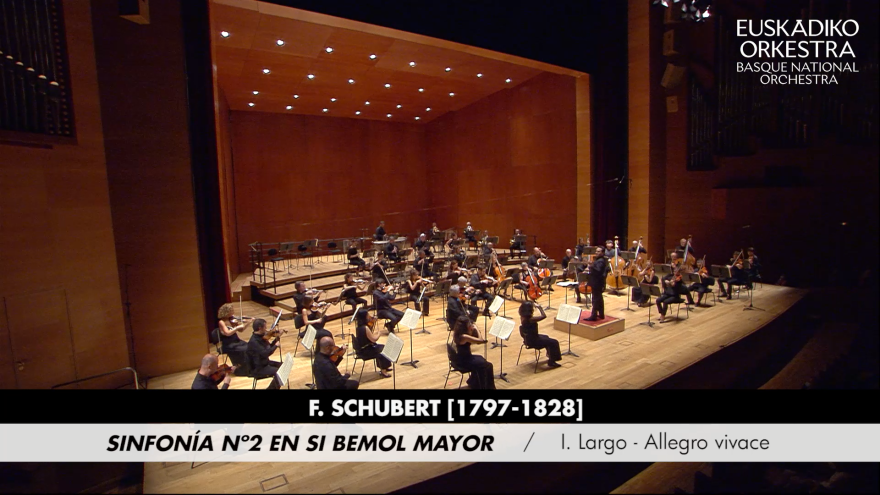 Today the Basque National Orchestra begins with Schubert's 'Symphony No. 2' the publication on its YouTube channel of the pieces that it is performing during its 20/21 Season. These are concerts recorded by ETB and which are also being broadcast on ETB2.
As we announced a few weeks ago, as a formula to overcome the current difficulty to perform before live audiences, the Basque National Orchestra has teamed up with EiTB to record and broadcast its Seasonal concerts, all of them recorded at the Euskalduna Conference Centre and Concert Hall in Bilbao. Since 28 November ETB2 has been broadcasting these concerts every Saturday at 11:00, and will continue to do so until July 2021, until the sequence has been completed.
After these broadcasts, the Basque National Orchestra will make available to the public the performance of these concerts on its YouTube channel, and will start to do so today with the publication of Franz Schubert's 'Symphony No. 2', the first of this renowned composer's four symphonies which the orchestra will make public over the coming weeks.
The Basque National Orchestra will gradually announce the uploading of new YouTube videos via its Facebook, Twitter and Instagram accounts.
Since the beginning of the lockdown in March, the orchestra has made great strides in producing and distributing quality audiovisual content in the digital space, and now has 7,000 subscribers to its YouTube channel.