Monday 12 April, 2021
In their first joint record, the Basque National Orchestra and Robert Trevino present the most universal of Basque composers: Ravel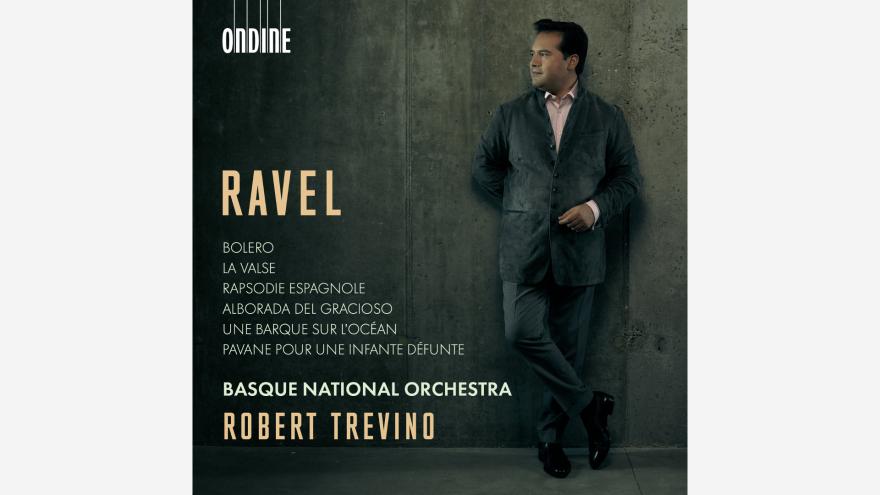 Launched internationally just a few days ago with Ondine Records, this eagerly-awaited and demanding recording of Ravel's orchestral works has been on the cards for some time.
Maurice Ravel is a universal composer whose works are performed across the world. Born in Ziburu in the French Basque Country, the Basque National Orchestra is showcasing his Basque origins. Robert Trevino has conducted centrepiece performances of Ravel in several season concerts and in the orchestra's debut at the Théâtre des Champs-Élysées in Paris. Since the early days of his conductorship, Trevino has been keen to explore Ravel's Basque identity in depth and to share with the world what this orchestra knows and understands about the composer's language.
In Trevino's own words, 'For the Basque National Orchestra, recording an album solely of Ravel is a huge challenge because the public knows this repertoire extremely well. It has been recorded countless times and performed to an excellent standard throughout history. So (…) why is this necessary? I think it is important to recognise the great affinity that the Basque National Orchestra has with the music of Maurice Ravel'.
The result of this time in the studio is an eagerly-awaited orchestral album of Ravel. As for the renewed interest in the composer, the music itself gives the clues, as Trevino explains. 'There are many passages in Ravel's music which are particularly Basque, such as rhythms or popular phrases, hidden all throughout his work. Ravel was French-Basque. Though his music has a lot of French colour, it also has Basque frankness and determination. In immersing ourselves in his music and approaching this masterful composer from a new direction, we have uncovered truths which are perhaps less evident to non-Basque orchestras. It has been a magnificent experience'.
This is the first time that Trevino has recorded Ravel but not so for the Basque National Orchestra. Its discography includes another album of Ravel recorded in 2000 with its then conductor Gilbert Varga and the pianist Joaquín Achúcarro from Bilbao. The record included Ravel's two piano concertos performed by Achúcarro along with Alborada del gracioso, which also features on the latest album together with La Valse, Boléro, Rapsodie espagnole, Pavane pour une infante défunte and Une barque sur l´océan.
Recording took place last October in the Kursaal Auditorium, where the large stage was equipped with an additional platform to ensure that the near 90 musicians tackling Ravel's great orchestral works maintained the safety distances currently required.
Initial international reception
Available on CD and in digital format on large platforms such as Spotify, Amazon and Apple Music, this new Ravel is a compendium of works famous across the world. A dedicated album of Ravel in this day and age may be a tough sell, but the new approach by the orchestra and its conductor in this recording has already attracted the attention of the leading platforms in this market just a few days following its international launch, and the album ranks highly.
Some of the initial reactions are listed below:
On Spotify, the album features on the list of Very best classical new releases.
The prestigious magazine Gramophone has included the record on its Apple Music playlist of Essential new albums of the week.
On Apple Music, Pavane pour une infante défunte is at the top of the A-List: Classical.
Australian publication Limelight has named the disc its album of the month.
About Ondine Records
This record was made by the prestigious Finnish label Ondine. Trevino has an annual deal with the label that started with the recording of Beethoven's complete symphonies with the Malmö Symphony Orchestra, of which he is also chief conductor. His recording career with the Basque National Orchestra kicked off afterwards with two albums: Ravel's most orchestral works, and a record of little-known American composers made last September.
Ondine, part of the Naxos group, is one of the most prestigious independent labels worldwide and has worked regularly with other prominent conductors including Christoph Eschenbach, Vladimir Ashkenazy, Esa-Pekka Salonen and Hannu Lintu.
'Ondine selects artists with whom we can work with meticulously', says Reijo Kiilunen, founding director of the label. 'We try to limit ourselves to a few great artists who provide visionary and imaginative interpretations of the standard repertoire, and whose adventurous minds unearth lesser-known and fascinating musical discoveries. Robert Trevino ticks all these boxes; this is a conductor with immense musical prowess and an original and inquisitive mind.
Reijo Kiilunen continues: 'Robert Trevino and the Basque National Orchestra have a highly characteristic and distinctive approach, and a fabulous sound. I was fascinated by the idea that this American conductor would guide the orchestra through the music of a Basque genius. This first record is a genuine revelation of just how wonderfully the orchestra with Trevino at the helm interprets the music of Maurice Ravel. The initial international reception has been enthusiastic and we expect excellent reviews. I congratulate the orchestra and Trevino for this impressive start and I eagerly await their future albums together'.
Where to buy the record
The record is available on the main digital platforms including Spotify, Apple Music, iTunes and many more.
Physical copies are also available to buy in several stores.