Season concerts
Schubert
F. Schubert:
Symphonies No.1, 2, 3, 4, 5, 6, 8 and 9
There will be no ticket sales for this concert, due to the current capacity restriction.
Basque National Orchestra
Date & Place
Pamplona-Iruña
Baluarte. Symphonies No.1 and No.6. (Group 1*)
Pamplona-Iruña
Baluarte. Symphonies No.3 and No.9. (Group 2*)
Information
*The information regarding the group number is only addressed to Basque National Orchestra season ticket holders.
Schubert had a hard life and never reached fame amongst the public of his time. Even so, he did have a very faithful circle of friends that, beginning in 1815, started to hold schubertiades in his honour; that is to say, private parties in which his music was celebrated and relationships between it and other arts were drawn, starting a tradition that continues even today in several places of Europe. Drawing its inspiration from that model, and to ring in a season that celebrates Romanticism, the Basque National Orchestra will hold its own schubertiade with Robert Trevino as the master of ceremonies. This is an unprecedented proposal for us, as it will provide the opportunity to listen to Schubert's eight symphonies in about a week, distributed over the four capitals and in double sessions.
HANDBOOKS
Artists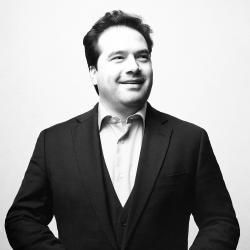 Robert Treviño
Director
More information
Basque National Orchestra