Other activities
San Sebastian Film Festival: Concert & Screening
Alejandro Amenábar
Mientras dure la guerra
Eva Gancedo
La buena estrella
Carles Cases
El Portero
Carmelo Bernaola
Nueve cartas a Berta
Arturo Cardelús
Buñuel en el laberinto de las tortugas
Aitor Amezaga
La sombra de nadie
Manel Gil-Inglada
Cher ami
Date & Place
Donostia / San Sebastián
Velodrome
Information
The Basque National Orchestra, the SGAE Foundation and the San Sebastian Festival are pleased to present the film music concert that the Basque National Orchestra is offering for the 70th Festival.
The first Saturday of the Festival, the Velodrome will open at noon for music lovers, film buffs and the general public, with a performance blending a symphonic interpretation of soundtracks and a medley of scenes from the films they belong to. It will be an hour and a half of audio-visual delight.
Entry is free, and the invitation must be picked up between 10 and 16 September at the San Sebastian Festival information point at Kursaal, from 9:00 to 20:00, or at the San SebastianTourism Office, Monday through Saturday from 9:00 to 20:00, and Sunday from 10:00 to 19:00.
Artists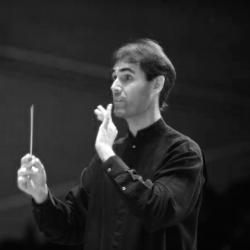 Juanjo Ocón
Director
Andra Mari Abesbatza
Choir
More information
Euskadiko Orkestra