Season concerts
Expectation
3 hidden works
M. Chamizo:
Elkano 1 Project [18'] (world premiere)
2 hidden works
Tickets on sale from 1 August on.
Euskadiko Orkestra Sinfonikoa
Date & Place
Vitoria-Gasteiz
Principal Theatre

Donostia-San Sebastián A
Kursaal Auditorium
Donostia-San Sebastián B
Kursaal Auditorium
Bilbao
Euskalduna Concert Hall
Pamplona-Iruña
Baluarte Auditorium
Information
We begin with an unprecedented proposal: a hidden programme. The audience will only know that it includes the premiere of the first work from the Elkano project, which will be part of the Orchestra repertoire for three years – the same time it took the Basque navigator to complete the first circumnavigation of the globe half a millennium ago. Navigare necesse est by Mikel Chamizo confines itself to the initial stages of this odyssey, observing the fears, hopes and expectations that those sailors who started the journey into the unknown must have experienced.
Taking inspiration from that idea, Robert Treviño invites the audience to join a musical journey of discovery, through five works whose titles will be unveiled at the end of the concert. For this adventure, the Orchestra will have exceptional company: the Bilbao Choral Society, a great defender of the new Basque music, and the soprano Mojca Erdmann, a leading interpreter of the German repertoire, with whom the Orchestra carried out its recent tour of Germany and Austria. The expectation could hardly be greater.
Artists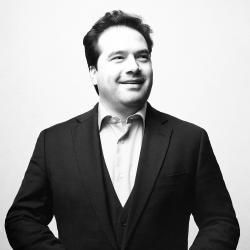 Robert Treviño
Director
More information
Mojca Erdmann
Soprano
More information
Sociedad Coral de Bilbao
Choir
More information
Euskadiko Orkestra Sinfonikoa