Tuesday 19 May, 2020
The Basque National Orchestra strikes up on stage for an eight-concert mini season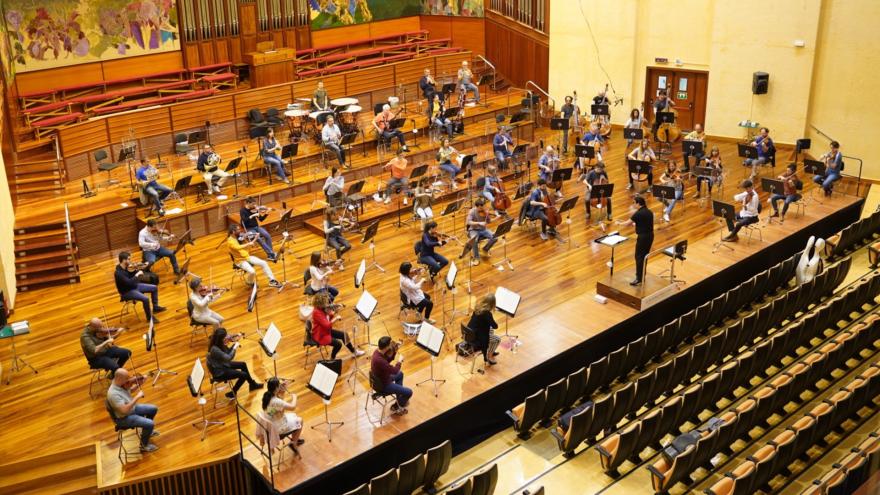 Unable to perform in the same space as its audience at this time, the Basque National Orchestra will broadcast to the public via TV and social networks.
It is the first orchestra in Spain – and one of the few in Europe – to return to the stage, and it will do so under the baton of its chief conductor, Robert Trevino.
Following its most recent concert on March 9th in Istanbul, which was a huge success but not without setbacks, members of the Basque National Orchestra were forced to isolate at home like everyone else. After two months without being able to work together and the cancellation of their most recent scheduled performances of the 19/20 season, the orchestra has adapted to the current circumstances to bring us an initial offering from its base in Miramon: a short season of eight concerts broadcast by the Basque public television service ETB. It is the first orchestra in Spain – and one of the few in Europe – to return to the stage.
Euskadiko Orkestra martxan!
This is the title of the short eight-concert season brought to you by a smaller ensemble of some fifty musicians. The orchestra is already rehearsing in its main headquarters in Miramon. Stage-layout tests have been completed, and there has been confirmation that the safety protocols in place are effective. This is still a large ensemble in which the musicians need to be physically close when performing the programmes, but under the current situation they must maintain a safety distance of two metres. Consequently, the musicians must learn to perform and to listen to each other in new and different ways so that the music flows. Here to bring the orchestra together is its chief conductor, Robert Trevino, who is at the helm of this eight-concert series. Each concert be a maximum of one hour long and will be recorded for subsequent broadcasting on Saturday mornings (11.00am) from May 30th on ETB2.
In addition to the Basque composers Ramon Lazkano and Mikel Urquiza, this short season will include works by Mendelssohn, Haydn, Mozart, Richard Strauss and Brahms, whose pieces are scored for a smaller orchestra with a maximum of 50 musicians. The orchestra will therefore strike up in a new way to bring music to its audience through the medium of television and streaming on its digital channels.
The first two programmes are as follows:
First programme: May 30th. ETB2, morning.
Agur Jaunak eta Andreak.
F. Mendelssohn: Symphony No. 3, "Scottish"
Orchestral ensemble: 50 musicians – 35 strings, 14 wind and 1 kettledrum.
Conductor: Robert Trevino.
Second programme: June 6th. ETB2, morning.
J. Haydn: Symphony No. 49, "La passione"
Orchestral ensemble: 40 musicians – 35 strings, 5 wind.
F. Mendelssohn: Symphony No. 1
Orchestral ensemble: 48 musicians – 35 strings, 12 wind and 1 kettledrum.
Conductor: Robert Trevino.
Subsequent programmes will be announced online and through the Basque National Orchestra's social networks.
Safety measures
The current circumstances require strict compliance with all preventive measures set out in safety protocols. Our priority is to ensure that all musicians and administrative staff are safe. All personnel have their temperature taken when entering the building and are notified that wearing a mask is compulsory until they go on stage. Inside the building, transit areas to the auditorium have been laid out in a circular floor plan so that everyone moves in the same direction and personnel do not have to pass one another. Shared dressing rooms are out of use, and instrument cases must be left in the seating area in an orderly manner. Once on stage, all musicians continue to maintain a safety distance from one another of two metres. The wind and percussion section is surrounded by protective screens.
Cancellations and the new reality
The orchestra was unable to complete the concert season scheduled through to early June in its headquarters in Vitoria, Bilbao, San Sebastián and Pamplona. More than 30 concerts were cancelled as a result. However, the orchestra has remained active during lockdown via its digital channels. Its activities have included a joint home-based performance of Agur Jaunak eta Andreak in tribute to society, the #EuskadikoOrkestraEtxean initiative promoting several musicians as they perform various pieces, and videoclips with the singer Izaro. The orchestra has been viewed thousands of times online thanks to this work. In parallel, work has been under way to bring the orchestra back together in what is a clear commitment to remaining a cultural standard bearer and an active part of society. So long as the orchestra is unable to perform directly to its audience, it will reach them with the help of Basque public television (ETB) and its digital channels.
International broadcast of this mini season
This series of concerts by the Basque National Orchestra will also be available on Stage Access – a soon-to-be-launched digital subscription platform with concerts, opera, dance and theatre – in an alliance that will bring the Basque National Orchestra to the North American market.
Performances: by order of rehearsal and recording
Anonymous (arr. J. Olaizola): Agur Jaunak eta Andreak
F. Mendelssohn: Symphony No. 3, "Scottish"
J. Haydn: Symphony No. 49, "La passione"
F. Mendelssohn: Symphony No. 1
W. A. Mozart: Symphony No. 31, "Paris"
F. Mendelssohn: Symphony No. 4, "Italian"
R. Strauss: Metamorphosen, study for 23 solo strings
W. A. Mozart: Symphony No. 41, "Jupiter"
W. A. Mozart: Serenade No. 10, "Gran partita"
Mikel Urquiza: Erio
L. V. Beethoven: Prometheus
Ramon Lazkano: Ttakun
J. Brahms: Serenade No. 2
M. Ravel: Le Tombeau de Couperin
M. Ravel: Ma mère l'Oye