Thursday 31 August, 2023
The Basque National Orchestra joins major Basque artists to record an Erkoreka record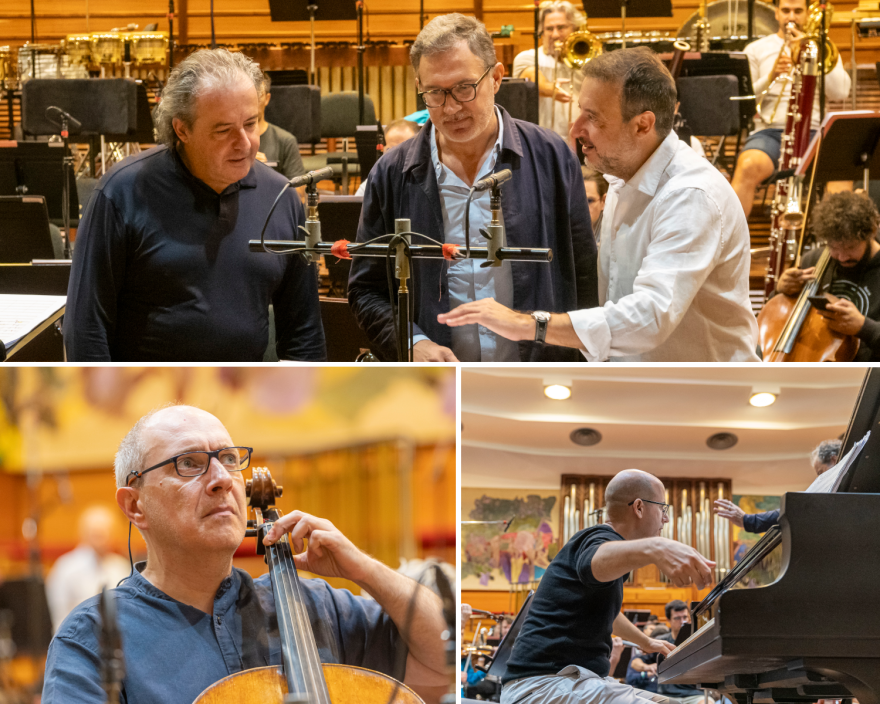 Juanjo Mena, Asier Polo, Alfonso Gómez, and Carlos Mena join the great line-up of artists currently recording three pieces from Bilbao-native composer Gabriel Erkoreka together with the Basque National Orchestra in Miramon. The recording will be made public in a few months.
In these initial time signatures of the new Season, the Basque National Orchestra is dedicating the coming days to recording an album at its Miramon home that will bring together three works from Bilbao-native Gabriel Erkoreka. For this purpose, regular orchestra collaborators, as well as internationally recognised and top-tier Basque artists have been brought together, and the result of this recording process will be reflected in the rich musical heritage that permeates this country.
Ekaitza, Piscis, and Tres sonetos para Michelangelo are three recent works from Gabriel Erkoreka's composition catalogue that will now be brought together with this recording, which will conclude this Friday after various vigorous work days. Three works were conceived by Erkoreka for these three soloists, which they have premièred and now recorded. In addition, this recording has the great virtue of being created among good friends.
Good friends, great artists
Asier Polo at the head of cello concerto Ekaitza, Alfonso Gómez with the piano concerto Piscis, and Carlos Mena with Tres sonetos para Michelangelo take on this recording with great responsibility, knowing that this is the first reference recording of these pieces. This project's musical direction is crowned by the work of director Juanjo Mena from Vitoria-Gasteiz, who is a connoisseur of all of these artists and the work of composer Gabriel Erkoreka himself, with this to say about this new project: "The performers are a sure thing, we have worked through it thoroughly, they are fantastic and directed by Juanjo Mena, who knows my music so well and has premièred a number of my pieces. There is a great deal of pent up emotion in this project".
Musical heritage
This project is of great musical relevance and fully encompasses the essence and mission of the Basque National Orchestra to contribute to the spread of culture in Euskadi, telegraphing musical values abroad, and serving to stimulate and provide space for Basque performers and composers, while also being a backdrop for documenting our musical production through recordings. The Provincial Councils of Araba, Bizkaia, and Gipuzkoa are providing support for this recording, which will be made public in a few months.