Season concerts
Youth
S. Rachmaninoff
The Rock [16']
B. Bartok
Violin Concerto No.1 [21']
S. Rachmaninoff
Symphony No.1 [42']
Single tickets will go on sale as concert dates approach, provided there is availability.
Date & Place
Donostia-San Sebastián A
Kursaal
Donostia-San Sebastián B
Kursaal
Information
Note: The organization of this concert programme will be communicated in early 2021.
Both Rachmaninoff and Bartók wrote a good deal of music in their youth. This body of pieces from said artists' youth –perhaps imperfect but with a ravishing, expressive momentum– will be the protagonists of this concert which begins with the fantasia The Rock, written by Rachmaninoff when he was just 20. And, alongside that piece, his Symphony No. 1, infamous because it was criticised so harshly when it debuted that Rachmaninoff, depressed, stopped composing for three years. It is, in reality, a magnificent piece in which the seed of his future production can be found. In between, the Austrian soloist Birgit Kolar will take on Bartók's Violin Concerto No. 1, which presents a little-known, fully romantic side of the Hungarian author before his immersion in folklore. Hans Graf, main conductor of the Basque National Orchestra between 1994 and 1996, is returning once again to this season to direct this rare programme.
Artists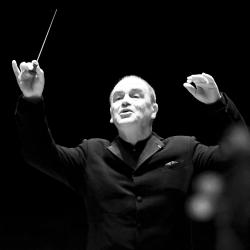 Hans Graf
Director
More information
Birgit Kolar
Violin