Season Concerts
Tragedy
M. Falla
Nights in the Gardens of Spain [20']
D. Shostakovich
Symphony No.8 [65']
Tickets on sale from 1 September on.
Date & Place
Donostia-San Sebastián A
Kursaal
Donostia-San Sebastián B
Kursaal
Information
"From tragedy to the spirit of achievement" is the motto of this Season where Robert Trevino has attached great importance to Russian music. Its journey starts with Dmitri Shostakovich's Symphony No. 8 in C minor. Written in 1943, amid the horrors of World War II, it is one of his least performed symphonies precisely because of its fatalism, as it reverberates with the suffering that was devastating Europe. However, in its tragic intensity, it is an extraordinary creation with a huge impact. The friendly counterpoint is brought by Nights in the Gardens of Spain by Manuel de Falla, three pages on which the composer from Cadiz captures as many landscapes of his native Andalusia, paying tribute to its Arab heritage. Alexei Volodin, one of the most active Russian pianists of the international scene, will immerse us in the refined impressionism of these nocturnal vignettes.
Artists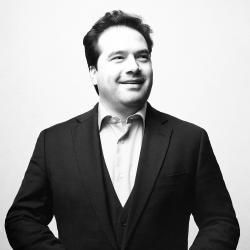 Robert Treviño
Director
More information
Alexei Volodin
Piano
More information