Thursday 09 September, 2021
The Basque National Orchestra presents 'Americascapes', the second recording under the direction of Robert Trevino and the Ondine label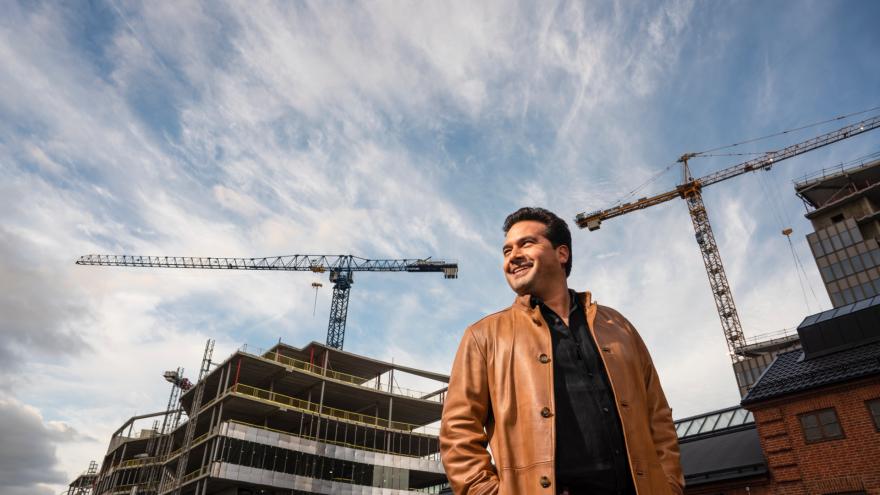 The new album published by the Ondine (Naxos Group) label and titled 'Americascapes' was released internationally this week. Under the direction of Robert Trevino, this new album recording focuses on four not very widely-known American authors —Loeffler, Ruggles, Hanson and Cowell— and will be on sale from 1 October.
The first recording of this series was dedicated to the symphonic works by Maurice Ravel and is having an extraordinary reception in specialised media across the international scene.
The four American composers in this recording, 'Americascapes', wrote music that received widespread recognition, but none of them enjoyed the popular 'success' of others such as Bernstein, Gershwin or Copland. They are relatively little-known works, a repertoire that does not feature in the big concert circuits and which the Basque National Orchestra has recorded under the direction of its American music director, Robert Trevino.
Although experts point out that it is unusual to find Charles Martin Loeffler, Henry Cowell, Carl Ruggles and Howard Hanson sharing their music on the same album, Trevino has considered this original repertoire appropriate. He has taken his exploration very far and has found a piece by Hanson, Before the Dawn, that has had to wait a century to be acknowledged and recorded for the first time. We should also highlight the soloist role of the viola d'amore in La Mort de Tintagiles by Charles Martin Loeffler and which corresponded to Delphine Dupuy, the orchestra's soloist viola player.
Robert Trevino: "This is a thrilling project"
In Trevino's own words, "This is a thrilling project. It took us a long time to choose the right four works. I wanted to find American musical points of reference of exceptional quality, from Loeffler's epic tapestry and the brilliance of Ruggles to the marvellous discovery of Hanson or the incredible inventions of Cowell. And while we always tend to talk about the European influence that American composers received, here we have four American figures whose influence reaches beyond the Atlantic, in the opposite direction. And you can hear this sense of creation and innovation in each one of these works. Without a doubt, these are four truly fantastic pieces that should reach more ears".
Works recorded:
La Mort de Tintagiles (Charles Martin Loeffler). Soloist: Delphine Dupuy.
Evocations (Carl Ruggles).
Before the Dawn (Howard Hanson). First recording worldwide.
Variations for Orchestra (Henry Cowell).
Where to purchase this album from 1 October
The album will be available on the main digital platforms including Spotify, Apple Music, iTunes and many more, from 1 October.
Physical copies will also be on sale in many stores.
Ondine
Ondine is the Finnish record company with which Trevino has a recording agreement for the next few years. It belongs to the Naxos Group, is one of the most prestigious independent labels worldwide and has worked regularly with other prominent conductors including Christoph Eschenbach, Vladimir Ashkenazy, Esa-Pekka Salonen and Hannu Lintu. "Ondine selects artists with whom we can work with meticulously", says Reijo Kiilunen, founding director of the label. "We try to limit ourselves to a few great artists who provide visionary and imaginative interpretations of the standard repertoire, and whose adventurous minds unearth lesser-known and fascinating musical discoveries".
The leaflet accompanying 'Americascapes' includes an essay by Pulitzer award-winning music journalist Tim Page, and a personal note by Trevino.
Great reception of 'Ravel'
The previous album by the Basque National Orchestra and Robert Trevino for Ondine has been very well received by international critics. There are references such as 'Featured album of the week' in publications and media such as Radio France, ABC Classic FM, Record Geijutsu and Limelight, as well as excellent reviews in Gramophone, BBC Music Magazine and many other prestigious publications. Recently, this month's edition of France's main publication, Classica, gave the album five stars and stated in its review: "Trevino emerges, at the age of 37, as a rising star. This selection from Ravel can be placed alongside the big Ravel specialists (…) the Basque National Orchestra is of very high quality, with a strong but refined tone, and perfectly attuned soloists".