Season concerts
The Night
G. Mahler
Symphony No.7, 'Song of the Night' [77']
Single tickets will go on sale as concert dates approach, provided there is availability.
Date & Place
Donostia-San Sebastián A
Kursaal
Donostia-San Sebastián B
Kursaal
Information
Note: The organization of this concert programme will be communicated in early 2021.
Symphony No. 7, which Gustav Mahler finished in 1905, is a victorious work that distanced itself from the personal narrative of other symphonies to propose a metaphysical journey from dusk till dawn (hence its nickname, "Song of the Night"). It is also a symphony of nature, as it includes the landscape of Carinthia, Wörthersee Lake, where Mahler spent two summers composing it: "with the first dipping of the oars into the water, the theme of the introduction (or rather, its rhythm, its atmosphere) came to me," the composer recalled years later. Robert Trevino –who has received great praise for his performance of Mahler's most renowned symphonies with orchestras like the London Symphony Orchestra and the Munich Philharmonic Orchestra– will use the Seventh Symphony to kick off the final stretch of the season, in which Mahler's music will be very present.
Artists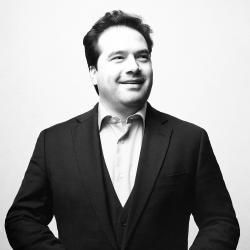 Robert Treviño
Director
More information